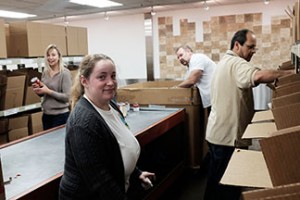 APFO employees repackage USDA commodity shipments that will be sent to community distribution centers across 29 counties in Utah.
Farmers and ranchers know that the U.S. Department of Agriculture, with its network of more than 2,100 field offices in nearly every county across the nation, provides a unique, in-person service by keeping its ears to the ground in rural America.
What's less known is that USDA also keeps its eyes in the sky, too.
With its Aerial Photography Field Office, USDA has one of the largest collections of historical aerial photos in the nation, responsible not only for the agriculture imagery that supports USDA Farm Service Agency programs, but also providing a historical record for studying rural land use changes, demographic change, habitat assessment and even urban development.
From this viewpoint of agriculture, the USDA aerial photography staff can see the big picture.
Recently, these employees took the big picture one step further after a guest speaker from the Utah Food Bank, a recipient of Combined Federal Campaign (CFC) donations, shared how CFC donations help hungry families in Utah.  The Utah Food Bank, as a partner in the "No Kid Hungry Campaign," works to provides food to children who may not receive three square meals a day outside of school.
After learning that USDA contributes farm commodities to the Utah Food Bank, the USDA aerial photography staff decided to volunteer their time on April 2 by stepping into the Utah Food Bank warehouse where USDA commodity shipments are stored waiting for distribution to the end user.
"With rows of boxes stacked to the roof, it was easy to see the USDA logo hundreds of times," said Denny Skiles, branch chief of aerial photography. "Boxes were broken open and repackaged with an assortment of veggies, meat, dairy and pasta products to create well-rounded meals to community distribution centers."
According to the No Kid Hungry Campaign, around 22 percent of children in Utah struggle with hunger. Of the 177,000 low-income children in Utah that receive free or reduced-price school lunches, only 11 percent receive summer meals. That's why during 2014, the No Kid Hungry Campaign distributed more than 5 million pounds of USDA commodities, or more than 186,000 cases of food to all 29 counties in Utah.
Such an effort requires hundreds of volunteers.  "Volunteering at our local food bank really educated the team on the day-to-day struggles so many Americans have with hunger," said John Mootz, aerial photography staff supervisor. "It really helped reiterate the importance of USDA's mission of supporting and protecting our agriculture supply system."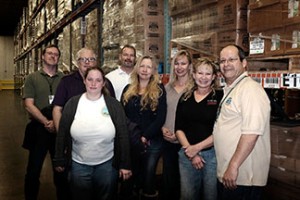 Farm Service Agency employees in the Aerial Photography Field Office (APFO) Operations Branch volunteered their time at the Utah Food Bank where USDA commodity shipments are stored for distribution.