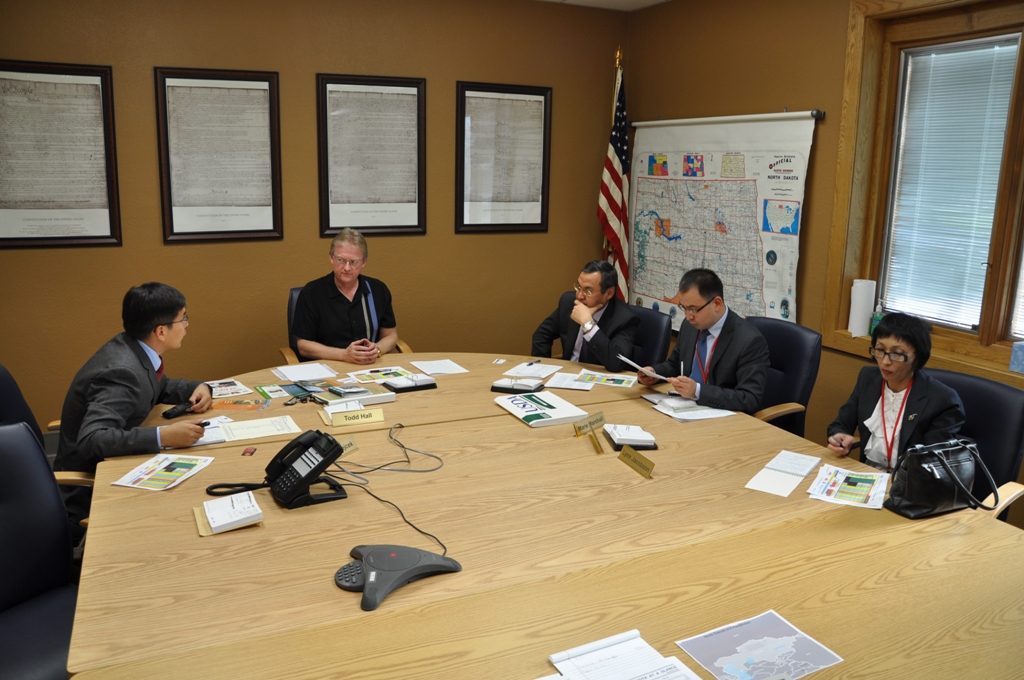 North Dakota SED Aaron Krauter discusses farm programs with a group of representatives from Kazakhstan.
State Executive Director Aaron Krauter and program specialist Dale Ihry explained several FSA programs to the delegation, including direct payments, Average Crop Revenue Election (ACRE) and conservation programs. The programs, Krauter explained, are part of the U.S. public policy of supporting production agriculture to ensure a safe, nutritious and consistent supply of food to consumers. "We've never gone hungry in this country," Krauter said.

 An agricultural trade delegation from Kazakhstan visited Farm Service Agency's North Dakota State Office last week to learn more about how USDA programs support local agriculture. The delegation, led by Kazakh Agriculture Minister Akylbek Kurishbayev, toured farms and agricultural production facilities in North Dakota with the state's trade office during the Big Iron Farm Show held in Fargo this week.
Krauter also highlighted the county and state committee oversight of FSA's programs. "Because our agriculture is so diverse and is different from state to state and county to county, the committee system allows FSA to deliver programs in a way that is fair to all producers."
— by Dan Janes, USDA FSA North Dakota State Office