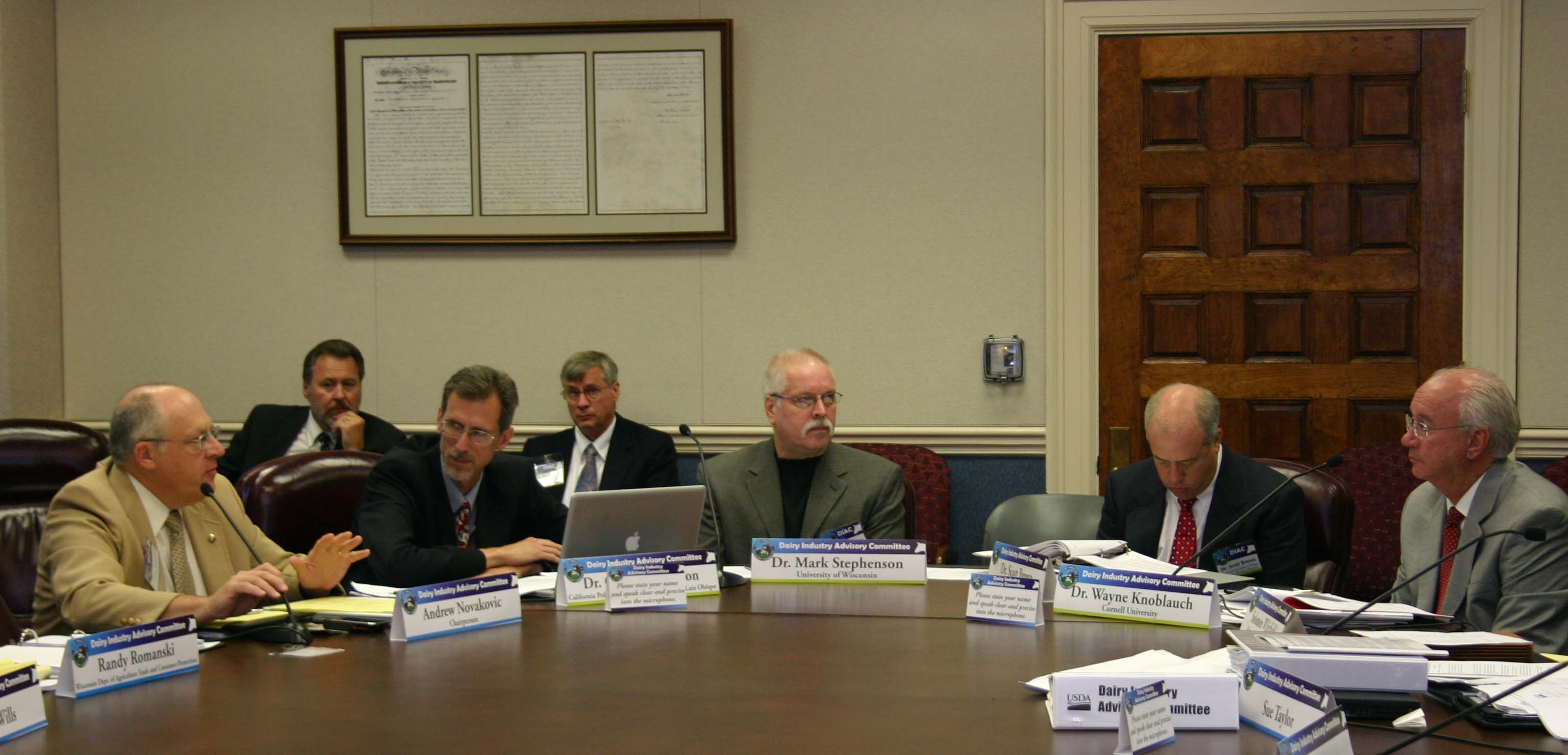 Dairy policy experts presented programs to assist the Dairy Industry Advisory Committee find solutions to price and income volatility in the industry. Pictured from l to r: Andrew Novakovic, DIAC chairman; Chuck Nicholson, Ph.D., California Polytechnic State University at San Luis Obispo; Mark Stephenson, Ph.D., University of Wisconsin; Scott Brown, Ph.D., Food and Agricultural Policy research Institute; Wayne Knoblauch, Ph.D., Cornell University.
Unless policies are changed, the volatility and price fluctuations seen by the dairy industry within the past two years will become more severe, according to a panel of dairy policy experts who presented their research findings yesterday during the USDA Dairy Industry Advisory Committee meeting.
"There is an issue. There is a problem," said Charles Nicholson, Ph.D., agribusiness professor at California Polytechnic State University at San Luis Obispo. "There has been an extreme level of volatility and [if policies do not change] the length and depth of the increases and decreases will grow greater and deeper."

Nicholson, along with three other experts addressed the 17-member advisory committee at the USDA headquarters in Washington, D.C., offering industry projections for the next eight years and several solutions that could help reduce price and income variability.
"I'm optimistic about the next 10 years," said Scott Brown, Ph.D., program director of livestock and dairy at the Food and Agricultural Policy Research Institute (FAPRI) at the University of Missouri. "Although the volatility could be great, on average it looks better than what we just came out of."
From 2008-09, dairy farmers suffered a loss in income as consumers and businesses cut back on the amount of milk and milk-based products they bought, creating a surplus and driving prices down. During the first quarter of 2009, milk prices — which are based on commodity markets and fluctuate with global demand — dropped from $16.80 per cwt to $12.23 per cwt due to oversupply.
Policy changes to avoid these types of fluctuations were presented in a 53-page document, along with several other reports, outlining three programs — Legislation Introduced by Costa and Sanders, The Marginal Milk Pricing program and Elements of the Foundation for the Future program — that would allow a percentage growth in milk production per year and a market access fee per hundredweight to be paid on either all milk or marginal milk at the producer's choice.
Brown cautioned that although policy change is needed, a careful decision must be made in order to avoid negative consequences. "A policy or procedure that eliminates volatility may sound good, but there may be side effects," said Brown, who alluded to an accumulation of dairy product stock, which could overhang the market. "That would cause the industry to have a slower and even longer recovery period."
This is the third meeting of the Dairy Industry Advisory Committee, which was formed by Agriculture Secretary Tom Vilsack earlier this year to review the issues of farm milk price volatility and dairy farmer profitability.
 — by Tanya Brown, Farm Service Agency